De Powerball-gekste neemt weer toe. Voor de derde keer dit jaar is de jackpot opgelopen tot een bedrag van vele honderden miljoenen dollars. De jackpot van 348 miljoen dollar viel vandaag (wederom) niet. Daardoor zit er voor a.s. zaterdag 415 miljoen dollar in de jackpot! Bij The Lotter krijg je nu 5 dollar gratis als je loten koopt!
Er zit 415 miljoen dollar in de Powerball-jackpot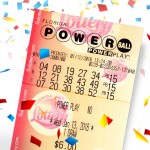 De hoogste tijd dus om je kans te wagen om multi-miljonair te worden! De kans om te winnen is klein, maar zoals de Amerikanen zo mooi zeggen"You have to be in, to win it". Oftewel: om te kunnen winnen, moet je wel meedoen. Meedoen is natuurlijk extra interessant als er een hoge jackpot wordt verloot. En, wat deelnemen nog interessanter maakt is dat je nu 5 dollar cadeau krijgt van The Lotter! Gratis kansen op een hele dikke jackpot dus!
Via The Lotter kun je overal ter wereld meespelen met de grootste loterijen ter wereld. Je bent dus niet langer aangewezen op de niet zo interessante Nederlandse en Belgische loterijen, zoals de Nationale Postcode Loterij, de Staatsloterij en de Nationale Loterij. Voor € 13,05 koop je drie loten voor de Powerball-loterij. Vervolgens dien je alleen nog op elk formulier 5 getallen en het Powerball-getal te selecteren, waarna je meedoet voor de jackpot van 415 miljoen dollar! Voor slechts € 4,35 per lot doe je dus al mee!
Hoe mis je geen enkele trekking van de Powerball-loterij?
Het zou jammer zijn als je Powerball-trekkingen waarin grote jackpots worden verloot mist. Zeker als zo'n jackpot nu net valt op jouw geluksgetallen. Daarom verkoopt The Lotter ook multi-trekkingen pakketten. Dit zijn pakketten waarbij je in één keer loten koopt voor meerdere trekkingen van de Powerball-jackpot! In totaal zijn er vijf pakketten te koop waarin je in een keer loten koopt voor meerdere trekkingen koopt voor deze Amerikaanse loterij die de hoogste jackpot ooit uitkeerde. Hoe meer loten je ineens koopt, hoe minder je per lot betaalt:
€ 3,70 per lot indien je loten voor 5 trekkingen (in totaal 15 loten) koopt.
€ 3,48 per lot indien je ineens loten voor 10 trekkingen (in totaal 30 loten) koopt.
€ 3,41 per lot indien je het pakket voor 15 trekkingen koopt
€ 3,37 per lot indien je het pakket voor 25 trekkingen koopt
€ 3,26 per lot indien je het pakket voor 52 trekkingen koopt!
Als de jackpot valt, dan begint de jackpot de trekking erop weer met 40 miljoen dollar. De minimale jackpot bedraagt dus altijd 40 miljoen dollar! Dat is nota bene al hoger dan de hoogste jackpotten in de Staatsloterij. Via The Lotter krijg je nu € 5 gratis loterijgeld om kans te maken op deze Powerball jackpot of om gratis mee te doen aan een van de andere buitenlandse loterijen!
Tagged with: Powerball